Main content starts here, tab to start navigating
Barbecue, tried and true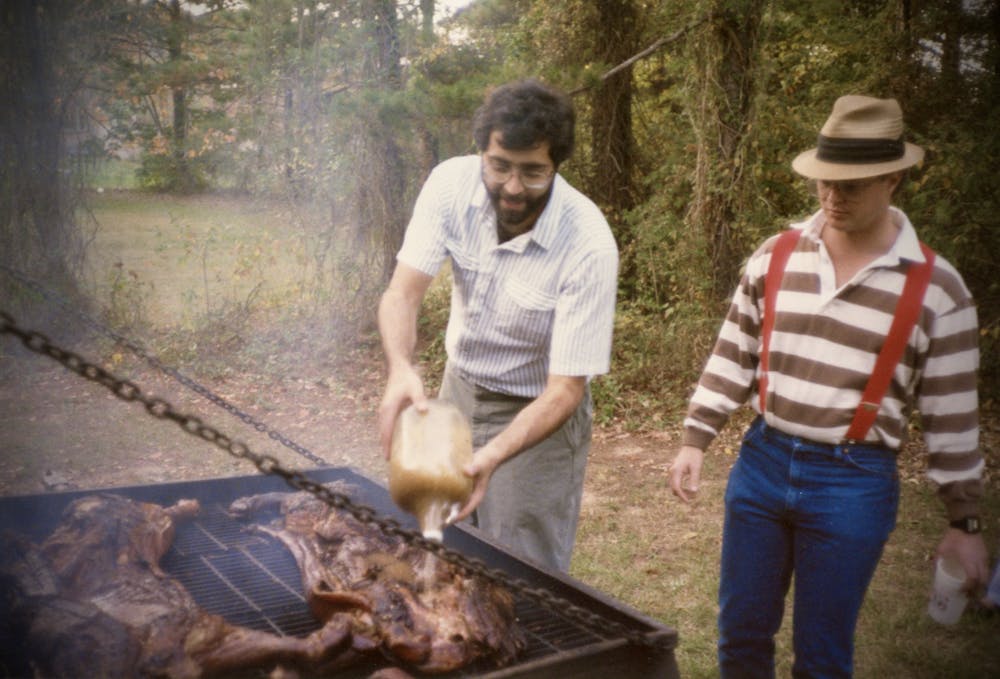 Owner Greg Hatem cooking a hog in his backyard, 1983.
North Carolina is known for its legendary barbecue joints. We proudly continue this tradition by serving authentic whole-hog, pit-cooked barbecue at The Pit in downtown Raleigh's warehouse district. A celebration of all of the great culinary offerings of the Old North State, The Pit has made a name for itself as the destination for the state's signature cuisine.
"Gone to a Barbicue. Back in three days." - George Washington
The pigs used to produce the barbecue are all raised in North Carolina using free-range farming practices. The freshest of the state's bountiful produce is featured in the starters, sides and desserts on our menu. Going far beyond traditional barbecue offerings with some contemporary twists on Southern favorites, The Pit also serves beef brisket, baby back ribs, barbecue turkey, fried chicken, and a can't-miss barbecue tofu dish. The tradition of Southern hospitality mixes well with The Pit's contemporary setting in a beautifully restored 1930s meatpacking warehouse.
All of the spirits at The Pit have been handpicked to enhance the smoked and sometimes spicy fare cooked off the pit, as well as with some of the more traditional entrees. We take this to new heights with dinners that pair specific wines and beers with barbecue. And if it's bourbon you want, we've got a selection of fine bourbon whiskey meant to awaken even more smoky flavors from the pit.
Our barbecue, ribs and Southern sides have helped us get plenty of attention from the media. We won a rib challenge on Food Network's "Throwdown with Bobby Flay" and competed on "Chopped." The Pit has been on The Travel Channel's "Man v Food" and was included in a barbecue cook-off on NBC's "The Today Show." The restaurant also has been included in cooking segments on ABC's "Good Morning, America" and "The Morning Show" on CBS, and has been featured in Bon Appetit, Southern Living, Men's Health, GQ, Imbibe, Delta Sky and Food Network magazines.